PUBLIC SAFETY DAS (ERRCS)
What Is Public Safety DAS?
National fire code guidelines provided by the NFPA (National Fire Protection Association) now mandate that all new buildings with certain features (building size, number of levels, total square footage, or existence of an underground level) to have a Public Safety Distributed Antenna System (also referred to as DAS) to provide for wireless coverage frequencies used by first responders in case of emergencies. Such a system is also known as Emergency Responders Radio Communications Systems or ERRCS for short.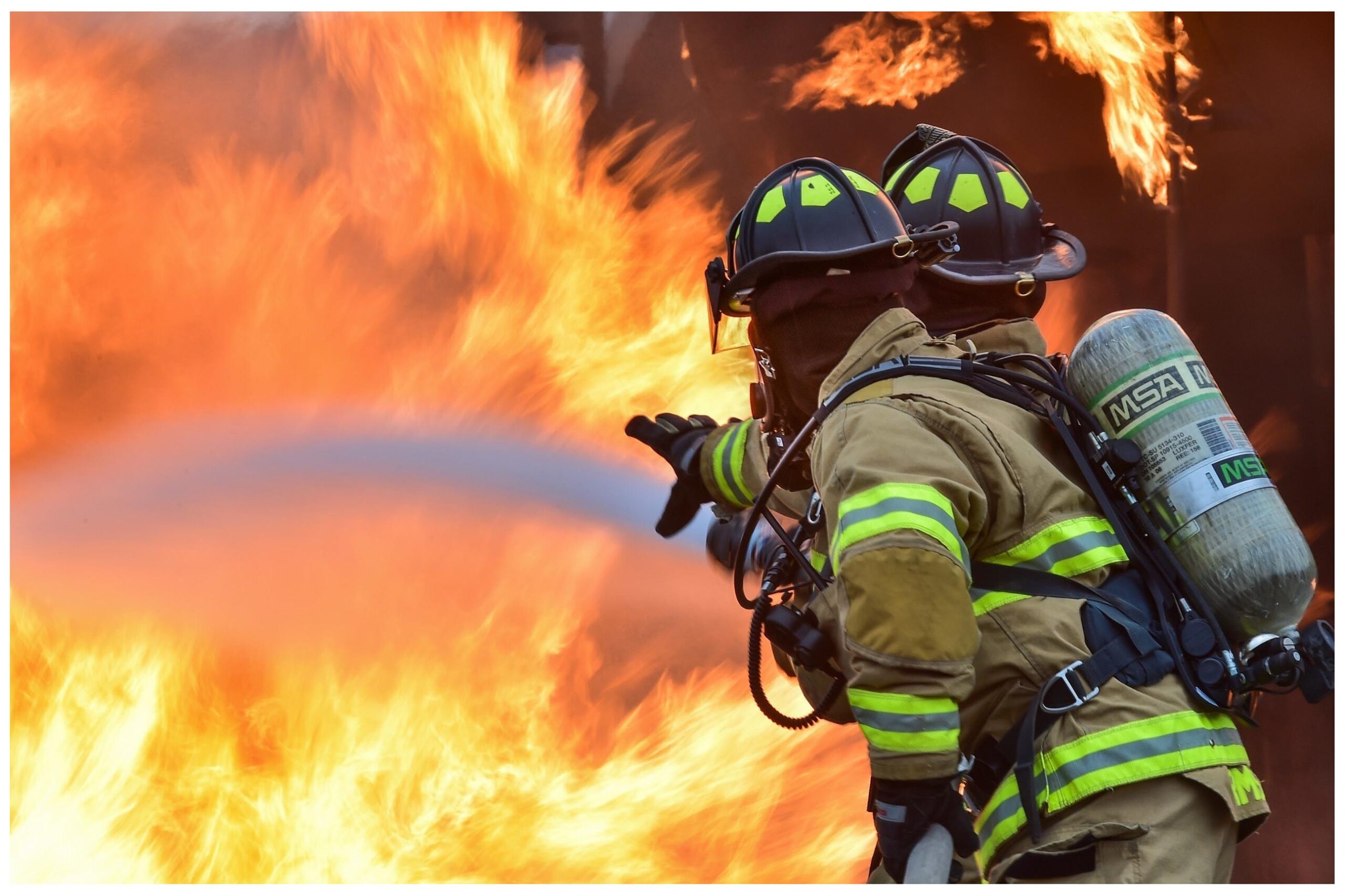 Public Safety DAS is installed to enable first responders within the building to communicate with each other and their base during an emergency. It is NOT to be confused with a commercial DAS system which provides signal from commercial carriers, such AT&T & T-Mobile. Public Safety DAS or (ERRCS) must be on a different spectrum from commercial wireless and covers the entire building, including basements and stairwells – areas where having commercial wireless signal is NOT critical. Public safety DAS must also have backup power  in case of an outage. Critical Areas, such as a fire command center, fire pump room, exit stairs, exit passageways, elevator lobbies, standpipe cabinets, sprinkler sectional valve locations, and other areas deemed critical by the authority having jurisdiction are required to provide 99 percent floor area radio coverage for specific frequencies the first reponders in that jurisdiction use.
While most cities have adopted this mandate and require a DAS system for first responders' use, specifications for what is required vary from city to city.  The most important variation is in frequencies to be included in a system since not all cities' Fire and Police departments use the same frequencies. These variations also apply to codes adopted and applied to required infrastructure for the DAS or ERRCS provisions; for example, whether or not wiring pathway should be in conduit or whether or not  it needs to be enclosed within a 2-hour rated assembly.  Variations also exist in how often a given AHJ (assigned electrical and fire inspectors) enforce  city adopted guidelines/codes in their review of the  infrastructure. As a result, the AHJ for the project address is the best source of information for what specific guidelines are attached to a DAS system to be provided for the project.  Even when all requirements for a Public Safety system are set and documented by the city, the interpretations of the AHJ inspectors assigned to the project ultimately decide what is specifically required.
Media Systems provides professional site surveys and engineered DAS (Distributed Antenna System) solutions powered by Comba Telecom and ADRF.  Below is a video illustration for Public Safety Systems (ERRCS):
The rendering below is a detailed graphic illustration of a Public Safety System:
A Public Safety DAS Closet/Room is created in a 2-hour rated space typically on a Parking level in smaller buildings (see 5 in below illustration). This Closet head-end features a radio signal sender and receiver (BDA) (See 3) and its power supply (See 4). The radio is programmed to receive and send signals over frequencies required by the city emergency responders.
DAS head-end closet is connected to a roof-top antenna (see 1) via a vertical pathway (see 2) which enables the radio to communicate back and forth with first responders. This vertical pathway is also enclosed in a 2-hour rated assembly.
Radio in DAS closet amplifies signals and transmits them over coaxial cable to indoor antennas (see 7) deployed in areas where signal is known to be poor or non-existent. The horizontal wire pathway in this case has a dual purpose as it is used for connections from the radio to antennas (see 2). The location of these indoor antennas is determined by a computer using a highly specialized software analyzing digital architectural plans to predict where these antennas need to be deployed to achieve coverage where it is needed.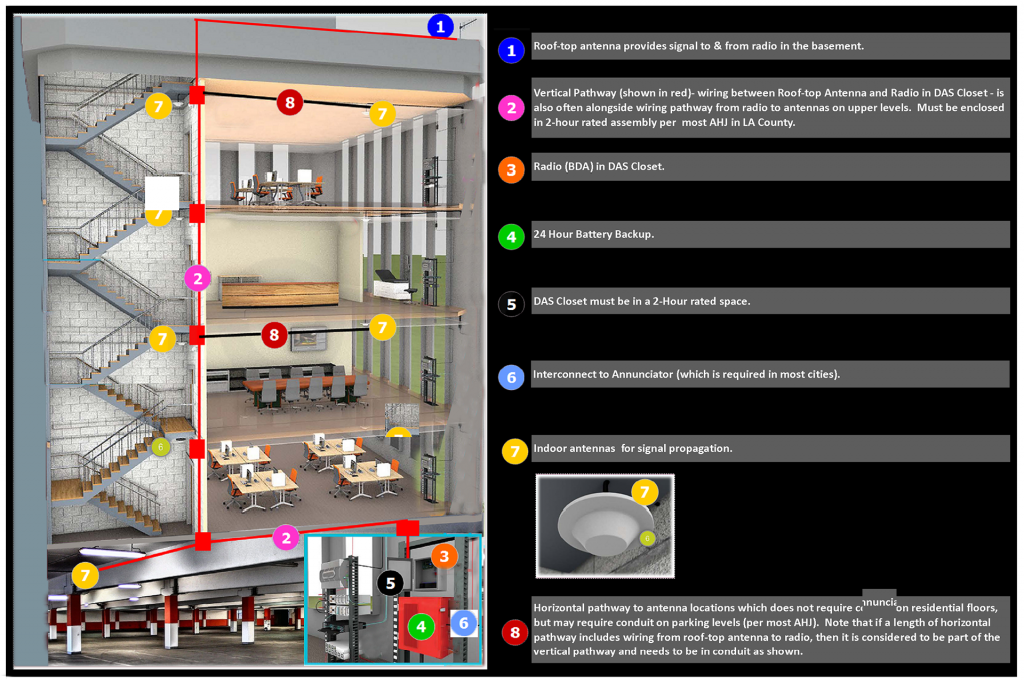 OUR CURRENT PUBLIC SAFETY DAS (ERRCS) PORTFOLIO
DAS or Distributed Antenna Systems for various purposes have existed in some form in commercial projects for nearly 20 years.  However, Public Safety DAS is a new mandated provision in most cities in the country for all new commercial projects.  It is also known as ERRCS (Emergency Responders Radio Communication System) in some municipalities.  Its purpose is to provide for an in-building system to tie into a communications network for first responders in the same city. This network essentially re-transmits fire or police radio frequencies from outside a building, where the signal is presumably stronger, into the building, where it usually is weaker or non-existent. Below we are offering detailed illustration of this system, along with typical questions developers may have in connection with this mandated provision.
LIST OF OUR PUBLIC SAFETY DAS (ERRCS) PROJECTS SINCE 2018
Next on Sixth – 660,000 SF Mixed-Use with 399 Upscale Residential units in Korea Town – Completed in 2018
1625 Lincoln Blvd – 191 Luxury Residential Units and 25000 SF of Retail Space in Santa Monica – completed in 2021
4531 Hollywood Blvd – 217,000 SF with 198 Residential Luxury Apartment units – Completed in 2022
1641 Lincoln Blvd – 66 Residential Units – Completed in 2020
1558 Gordon Street – 44 Residential Units – Completed in 2018
1336 Gordon Street – 46 Residential Units – Completed in 2019
1440 Gordon Street – 42 Residential Units – Completed in 2020
3675 Dunn Street – 17 Residential Units – Completed in 2019
1446 Tamarind Street – 42 Residential Units – Completed in 2019
11837 Mayfield Ave – 26 Residential Units – Completed in 2020
960 Main Street – 150,000 SF Storage Facility – Completed in 2020
14845 Ventura Blvd, Sherman Oaks – Shopping Center with Pavilions – Completed in 2020
325 First Street Village, Burbank – 101 Residential units – To complete in 2022
1000 Main Street, Los Angeles – 275,000 SF Storage Facility – To complete in 2022
313 California Street, Glendale – 197 Residential Units – Completed in 2021
712 Marengo Street, Pasadena – 7 large Condo Units – Completed in 2021
8377 Blackburn, West Hollywood – 24 5-Bedroom Residential units, 300,000 SF – To complete in 2023
1839 Pandora Street, Los Angeles – 8 Condo Units – Completed in 2021
2528 S Grand Avenue, Los Angeles – 296 Residential units, 670,000 SF – To complete in 2022
91 Harkness, Pasadena – 9 Upscale Condominiums – To complete in 2022
Hilton Curio, San Gabriel – 225 Hotel Rooms, 84 Condominiums in 2 Towers, 500,000 SF – To complete in 2022
973 Del Mar, Pasadena – 13 Upscale Condominiums- To complete in 2022
1451 MLK Drive, Los Angeles – 50 Apartment Units – To complete in 2022
Holiday Inn – 1270 Airport Park, Ukiah – 110 Room & Suites – Completed in 2021
825 Croft Ave, Los Angeles – 7 Luxury units – Completed in 2021
5548 Elmer Ave Lofts – 12 Residential Units – To Complete in 2022
280 N Oakland Ave – Pasadena – 181 Residential Units – To complete in 2023
1846 Cherokee Avenue, Los Angeles – 21 Residential Units – To complete in 2022
3647 Hughes Avenue, Los Angeles – 5 Residential Units – To complete in 2022
713 Stoneman Avenue, Alhambra – 18 Apartment units – Completed in 2023
1413 Michigan Ave, Santa Monica – 58 Apartment units – To complete in 2023
743 Stoneman Avenue, Alhambra – 18 Apartment units – To Complete in 2023
1919 Court Street, Los Angeles – 46 Apartment units – to Complete in 2023
1413 Michigan Avenue, Santa Monica – 58 Residential Units – To Complete in 2023
CSUN Northridge Residential Complex – 118 Apartment units – To Complete in 2023
411 Brand Blvd, Glendale [The Campus] – 228 Apartment units & commercial units – To complete in 2023
806 Adams Blvd, Los Angeles – 102 Apartment units – To complete in 2023
3223 Wilshire Blvd, Santa Monica – 53 Residential units – To complete in 2023
425 First Street Village – 98 Residential Units & Retail Space – To complete in 2023
PUBLIC SAFETY REQUIREMENT IN THE CITY OF LA
As mentioned earlier, the City of Los Angeles has the most stringent requirements attached to Public Safety. While all municipalities have adopted the general guidelines with regards to how much signal is required and where the City of LA has additional mandates which most of its inspectors are aware of and enforce. Currently, the following is what we know is required as of Sep 2018:
If your project is required to have a Public Safety System (ERRCS), the city will require to see a submission to the city documenting several aspects of the system. This is typically performed by your subcontractor providing and installing this system. The submission will include a computer prediction map, floor by floor, showing not only all system elements but also a predicted pattern for the signal it will generate. It will also include details provided by the sub showing specs for all components and calculation for power usage and power backup time. The city will review this design (takes 3 to 5 weeks) and if approved will then require your sub contractor to pull both electrical and fire department permits.
All horizontal signal pathway on garage levels (where signal is likely to be lowest) must be in red EMT conduit. Cabling used for public safety has a wide bend radius; therefore typically conduit used should be wider than 1″. In garage spaces where cabling length is over 100 Feet or has more than one bend, typically 1.5 to 2 inch red conduit is used.
All Junction boxes on horizontal pathway must also be red.
All Vertical signal pathway must also be in red conduit installed in a 2-hour rated space.
A 24-hour battery backup must be provided and be dedicated to the system – City will actually require that your submission for a Public Safety permit to include power calculation indicating that the provided backup can in fact provide power for 24 hours given the size of the proposed system.
Battery backup must have UL-50E listed housing or be housed in an enclosure with this UL listing clearly visible on the backup unit housing or enclosure.
Public Safety DAS must be isolated from commercial cell DAS.
Radio signal generator (BDA) and its battery backup must be enclosed in a 2-hours rated space. Typically this device and its backup are placed in a 2-hour rated space on a garage level, assuming the vertical distance from this location to roof-top antenna is less than 100 linear feet (radio signal collected from roof-top weakens over runs exceeding 100 feet
Radio Signal generator (BDA)itself must be housed in an enclosure with UL-50E listing stamp visible on the device or on the enclosure housing it. Within the next year or two we may see BDAs manufactured in chassis that meet the UL-50E Listing, and therefore eliminating a need for the external enclosure we now use.
System must have on-going monitoring that will give visual indication of being on, being powered and providing visible feedback on status of its battery backup. Typically this is provided via an annunciator
MOST COMMONLY ASKED QUESTIONS
Question: How do I know our new construction is subject to this requirement?
Answer: Based on current national codes and adopted by the city of Los Angeles and most other AHJ, If any of the following are true of your property development, then this mandate applies to your project:
There are more than 3-stories above grade plane
The total building area is 50,000 square feet or more
The total basement or parking area is 10,000 square feet or more
Any basement or level that extends 2 or more stories below grade plane
Any building that is 20,000 square feet or greater and is equipped with a solar voltaic system
Question: Our project meets one or more of above stipulations and the city inspector or departments have not asked for Public Safety provisions; does that mean we are not subject to it?
Answer: We have already seen two instances where the city inspector did not inform the developer or general contractor that a public safety system was required in a fully framed new construction. We also know of one electrical inspector actually passing and signing off on the final electrical inspection of a new building without noting that a public safety system was required or needed to be inspected, but the fire department inspector noted that in its inspection. Given the scale of work to be inspected by an electrical inspector, the lack of provisions for public safety may not even be noted. Therefore, the city electrical inspector may not even notify you that a public safety system is required in your project, but the fire department WILL know because that department's scope of inspection of your project is far more limited and their agents will look for it when they inspect the fire provisions. You will not get a final CFO without fire department testing not only typical fire-related systems but also a Public Safety system which they will test.
Question: Our architect believes that given the small size of our building we can get a test and see if our building even needs a Public Safety system and avoid spending $50K plus for such a system?
Answer: It is true that some smaller buildings with NO underground parking will have enough signal in the interior and escape routes for first responders to get signal. However, chances of that happening with a subterranean garage are very small and no city inspector wants to have the responsibility of deciding that you will have adequate ambient signal even on above ground levels. The final say as to whether or not a Public Safety DAS is required at your building is the AHJ and its inspectors. Also, a test during construction has little value because results will change once project is completed (building becomes more dense and less signal gets through) and is occupied; therefore a test offers the ownership only the benefit of proving a positive in that a system is needed even though the project is not complete.
GUIDELINES FOR DEVELOPERS IN CITY OF LA
Once you determine Public Safety DAS System (ERRCS) provisions are required in your project, the first step is to acquire a design based on your architectural plans. A highly specialized software used by RF engineers will analyze architectural plans to predict where the signal may be below code. It will then create a design showing the signal pathway, junction points, and all locations requiring indoor antennas.
Public Safety (ERRCS) installation firms often provide you with a design, sometimes at no charge. However, typically such firms are likely to provide you with a design incorporating their preferred gear. The best practice for a developer is to ask and pay for a design submitted by a third party design engineering team. The developer can then ask different subs/ installers for multiple bids on the same design, rather than getting multiple bids on various designs & systems submitted by various public Safety installation firms.
Once you have selected an installation team, you will authorize that subcontractor to submit your design with their own notations on the design to the City of LA's fire department for review. This should ideally be done prior to main deck over garage being poured in order to accommodate sleeves into the garage levels where by city code all wiring must be enclosed in red EMT conduit. This submission should take place at least 45 days prior to needing approval.
City of LA requires the design to show all pathways and location of all its elements along with heat-maps and various reports showing expected signal, all to be printed on 24×36 paper to be reviewed by a city inspector. There is no charge for the review, but once the design is accepted, the fee for review and permit by City of LA Fire Department is typically in the $700 to $1100 range. Post that approval and fee payment, there are additional fees for electrical permit and inspections. That fee will be based on the scale of the project.
No developer should allow a public safety system to be installed before the city has reviewed the design and approved it. Upon completion of the system, both electrical and fire department will inspect the system. The electrical inspector will not examine signal generated by this system but will enforce all the other electrical codes related to the system's elements & pathways. Conversely, the fire department is primarily focused on signal generated and will test the signal upon its completion to make sure calls generated from different areas of the venue are successfully made.
Call Us: (310) 277 - 4567
31348 Via Colinas - Unit 103, Westlake Village, CA 91362